Special Message about the 2019 WeekDate Weekly Planner.




As many of you know, WeekDate is a one-woman show. For various reasons, I have decided to not produce a 2019 Weekly Planner.

If you are a WeekDate fan who has enjoyed the Weekly Planner in the past and was hoping to purchase one this coming year, I appreciate your support and am sorry for this change.

If you are still using your 2018 planner, please show it off to people for continued interest, as I may continue producing WeekDate in future years. I consider each of my loyal customers a personal salesperson for WeekDate and I thank you for taking on that role if you wish to see WeekDate continue.

I will make a decision about continuing the business in future years based on interest, feedback and other personal factors.


Thanks for understanding,

Kay Odell
(Creator, Owner and all things WeekDate)
Two weeks at at time?
I get to see two weeks worth of calendar at a time? Sweet.


Click image for larger view.

Balancing the phone between your ear and shoulder... trying to do a million things... suddenly the voice on the phone tells you that your monthly book club or weekly status meeting has been moved to another day of the month or week. While some scramble through each month or week to make the change, the smart person has a WeekDate calendar... makes the change once and Voilà! – done for the year.


Now, you're that smart person. Welcome to WeekDate.

Just look in one column each day to see what you have scheduled!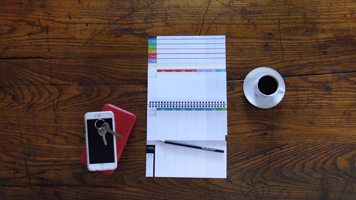 Only Write It Once. Could it be any easier?

Note: This is a Monday to Sunday calendar.

Want even more
?




It's gonna be a good, good year.
Click images for larger view. *** Please note these are 2018 Weekdate Weekly Planner images. ***
Use it the traditional WeekDate way... or set it up as a "tent" on your desk or countertop.

Product Specifics

January 2019 - December 2019 Planner


Every WeekDate Weekly Planner comes with it's very own fantastic WeekDate pencil


Closed dimensions are 9" x 4½"


Please note this is a Monday - Sunday calendar


Introducing the new "WeekDate Time Tracker to watch your time go by throughout the year.

Use it the traditional WeekDate way … Or … set it up as a tent calendar
on your desk or countertop!


Monthlies to track your recurring monthly events


Weeklies to record your weekly set schedule


Back cover features 2019 full year view


Just look in one column to see all your activities for the day.


New "Monthly Views" before each calendar month


Full notes/goals/to-do's page before each month


Six fun Simple Cover Designs!


Hide or show your "Monthlies" flap. You decide!


Use your "Weeklies" flap to save your place in the year.


Unique "Only Write It Once" design


Every page has a tiny monthly view!


Current year (2019) and next year (2020) views.
"I take out my WeekDate calendar, and people immediately crowd around like I just started performing magic tricks like a David Blaine wannabe."


Need even more? Here's our 2 minute "How It Works" video.
Reviews for our Weekly Planner